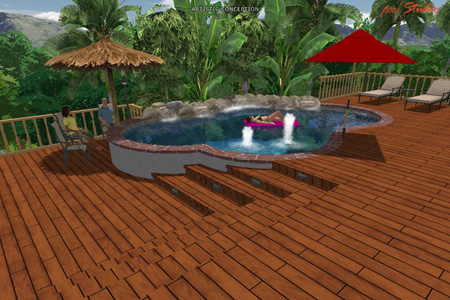 2D drawings into 3D

We create unprecedented vivid experiences for our clients. With the unique interactive presentations of the best 3D pool and landscaping design software, we give our clients a clear understanding of their project in extraordinary detail. We can lead them as they walk or even fly through their future space, exploring the personalized features, transitioning from day to night, listening to the lush nature sounds, and imagining themselves enjoying their space.
Photo Mode

We simplify sharing with our clients with easy-to-capture photos of any angle, at any time of day or night. The creative possibilities deepen when using landscaping software to choose the perfect camera points. We can email, print, or share photos of your custom project directly with our clients to share with friends. With sophisticated artistic effects, we showcase features worthy of attention at up to 8K resolution.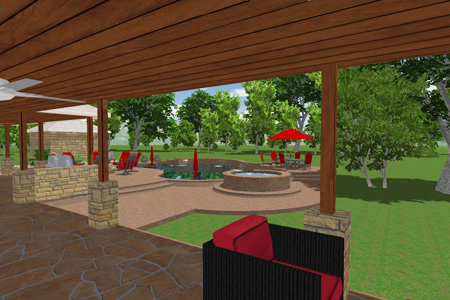 Video Mode

Tying together even intricate projects is effortless with our video storyboards. Our design software sets the new standard by making the video production process smooth and professional. We assemble shots to highlight details, rearrange featured locations in your project, and add and sync sound for stunning videos.
See the Future in 360 degrees

As you explore every richly layered detail of your future outdoor living space, your project seems to come to life right before your eyes. We create interactive 360 degree screenshots, images, and videos - all ready to be discovered from every angle. You will be transported into the future: your pool, your lawn, or your outdoor space - fresh, vivid, and absolutely amazing.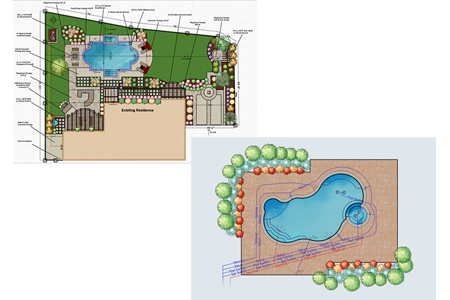 Accurate Planning

With the powerful, customizable construction layer, our software eliminates the hassle of drawing up construction plans. We can add symbols, plumbing, electrical, and gas lines immediately and directly to your design. When we hand off your plans to our crew, we do so with complete confidence. Our construction plans are detailed and are easy to read in the field. By adding 3D views to clarify complex construction elements, the crew is completely familiar of the final look before the first shovel of dirt is turned.

Our software figures all of your plumbing lines to calculate the total length of pipe your project requires. We can select any object to automatically calculate its area, perimeter, or material square feet. Key points are triangulated with the measure tool and any measurement we need is instantly calculated, dropped right into build-ready construction plans.