Tropical Pools of Austin, Texas, is proud to receive the Nexus 21 Best 17 Award!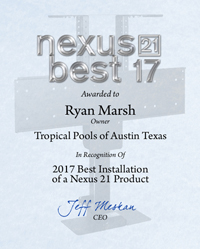 Based in Scottsdale, Arizona, USA, Nexus 21 is the worldwide leader in lift systems. Founded in 2005, the company has experienced tremendous growth while transforming the industry by creating revolutionary products that combine sophisticated design with unparalleled reliability. Known for providing the highest quality products and truly great service, Nexus 21 has become the preferred choice of professionals and homeowners alike. Nexus 21 products are used today in more than 40 countries with active sales representation around the world. All products are made in the United States.

This year Nexus 21 proudly presented Tropical Pools of Austin and 1st Call Security Solutions, LLC, with the 2017 award for best installation. With out-of-the-box creativity, masterful planning, brilliant execution, and innovative engineering, this pool has a feature that stops people in their tracks and makes jaws drop! It is a showstopper and something people talk about with wide-eyed wonder and amazement!

There are simply no limits to how far one can go when designing a backyard. This stunning Texas home was turned into a premiere entertainment space with the addition of a pop-up 63" TV out of a seemingly ordinary poolside planter. See how easy it was for Tropical Pools of Austin, Texas, and 1st Call Security Solutions, LLC to master weatherproofing and to keep the excitement going for years to come.

Meet the powerhouse duo behind a stunning outdoor installation of a Nexus 21 lift. From initial design and waterproofing to client reaction and luxury benefits, these innovators walk us through how they turned a backyard into a luxury, outdoor entertainment space.