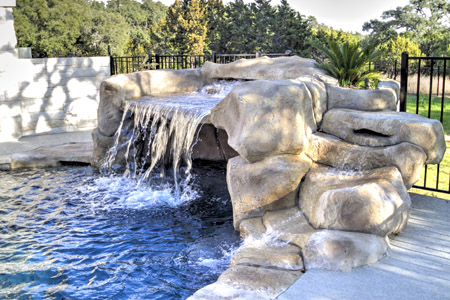 There is a Difference

Envision the power to create the yard of your dreams from built-in BBQs and fire pits to an elaborate, spectacular water retreat.

When you're looking for a fresh, custom approach at an extremely competitive price, call us. Tropical Pools of Austin is an experienced pool builder, providing quality pools, spas, and pool remodeling for over 14 years. We specialize in creating outdoor settings that are an extension of your personal lifestyle. At the same time, we save our clients time and money because we have the proven resources needed to design and complete custom projects on time and in budget. Take a few minutes and browse through our pools and spas photo gallery. You'll discover spectacular pools, spas, custom water features, outdoor cooking centers, pergolas, BBQs, and entertainment centers. It's a great place to awaken your imagination and get new ideas to discover exactly which features would best enhance your home and enjoyable lifestyle.

At Tropical Pools of Austin, we use the knowledge and skills acquired over the years to build exceptional custom swimming pools and outdoor living. That experience enables us to deliver top-notch projects and world-class customer service to you.
Our Mission

Our mission to serve our customers with quality, professionalism and trust is the reason why over so many customers have chosen to build their backyard sanctuary with Tropical Pools of Austin. At Tropical Pools of Austin, we use the knowledge and skills acquired over the past 14 years to build custom swimming pools and outdoor living. That experience helps us to grow our business, while delivering top notch projects and customer service to you, the customer. Our customers relax through their projects, knowing that we are overseeing every single aspect and every tiny detail. We do it right the first time every time!

About the Owner

Ryan Marsh is the owner/operator of Tropical Pools of Austin, Texas. He was born in Grapevine, Texas, but lived on the west coast for most of his life. Married to his beautiful wife, Rebekah, for 15 years, together they have 2 lovely daughters who are ages 14 and 8. They moved to Texas from Arizona 6 years ago.

Because he is a dependable, hard-working, in-ground swimming pool installer, his pool experience goes back 14 years with nearly 800 pools under his belt. His Company builds custom Gunite and Shot Crete Pools, but also has a vast knowledge of Fiberglass pools. Being a Master Plumber allows his Company to include in-floor cleaning systems, water features, ozone systems, UV systems, splash pads, lazy rivers, grottos, water slides, custom rain sheers, multi-system custom spa therapy plumbing systems and much more. He is self-disciplined, technically and mechanically inclined with excellent customer service skills.

Ryan's experience has been gained from working for/with a few extremely qualified pool installers in Arizona, both as an employee and as a subcontractor. Tropical Pools of Austin is a reliable, dependable and excellent builder to choose for your swimming pool, outdoor living, and landscaping projects, not only because he always does what he says he is going to do, but also because of his creativity, follow through, on time every time build times, customer communication, and continued support long after the job is done.
Education
Passed the A-9/B-5 Swimming pool Trade Test and Business Law Test in Arizona, where the guidelines and qualifications are not only extremely important but also necessary to be licensed and do business in Arizona. This is not, unfortunately, implemented here in Texas.
Spent six months at Viking Pools Manufacturer, installing fiberglass pools per manufacturer specs.
Attended and completed Pentair Equipment Manufacturer training and education workshops.
14 years of hands on in the field construction experience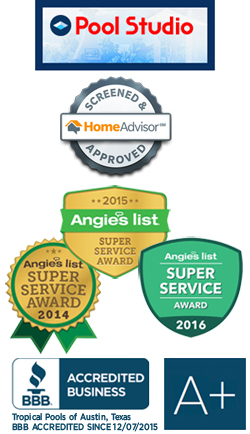 Relevant Experience:

14 years of experience in all aspects of building custom swimming pools
Proficient and creative in Pool Studio design program
Excavation & Forming
Rebar layout and tying
Masonry and tile installation
Natural rock work and water features
Artificial rock work
Efficient troubleshooting and problem solving skills
Complete job site details/supervision from start to finish
Full job site layout and forming
Concrete pool decking, Driveways, and sidewalks
Shotcrete and Gunite installation supervision
Knowledgeable in business and customer relations with solid communications skills
Proficient with trade-related math skills essential for a safe efficient job site
Master in all pool plumbing aspects including in-floor cleaning systems, Water Features, Ozone systems, UV systems, Splash pads, lazy rivers, grotto's, water slides, Custom Rain sheers, multi system custom spa therapy plumbing systems and much more...
Full Landscape design and installation
Remodel specialist
Home Advisor screened and approved
Won Angie's List Super service Award in 2014, 2015 and 2016 for excellent product delivery and customer satisfaction which only 5% of businesses earn this award
A trusted A+ business with the Better Business Bureau